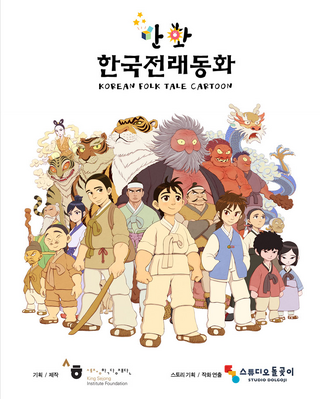 Korean Folk Tale Cartoon
is a series of
webtoons
based on Korean folktales and legends.
The King Sejong Institute Foundation in Seoul has produced a webtoon series in five languages to help non-Koreans better understand Korean culture.
Twenty-four folktales, including "Kyunwoo and Jiknyo" and "The Sun and the Moon," will be published as a weekly webtoon series ― digital cartoons regularly released through portal sites ― on the foundation's website in Korean, English, Chinese, Japanese and Spanish according to the Korea Herald.
"We developed a webtoon series, with content that is unique to Korea, and other language learning content, for those who want to learn the language more easily and freely," said Song Hyang-geun, the president of the foundation.
List of Folk Tales
Edit
The Three Inheritances
The Tiger and Traveler
The Threaded Tigers
The Tiger Brother and Woodcutter
External Links
Edit
Korean Folk Tale Cartoon at sejonghakdang.org Just click on the Tiger to go to the webtoons (Note: There are language options for English, Japanese, and Chinese).