Trace 1.5
트레이스


Alternate Names
트레이스 1.5
Genre
Fantasy, Slice of Life
Status
Completed
Author
Nasty Cat
Illustrator
Nasty Cat
Publishing
Publisher
KAKAO WEBTOON
Original Run
April 3, 2007 - December 28, 2020
Wiki
Trace 1.5 is a webtoon by Nasty Cat.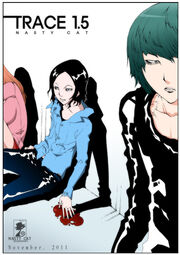 Summary
[
]
The story is set in contemporary South Korea. Some 30 years ago, unidentified creatures appeared out of nowhere and have attacked people. They have caused massive destruction wherever they go. These monsters are called "Trouble", and due to them the world has fallen into chaos. Along with the first appearance of the "Troubles", some number of humans were born with or acquired supernatural abilities. These mutants called "Trace" are the only ones who can fight off the "Trouble". The "Trace" are also considered freaks and are generally shunned by the community, because some of them misused the powers for their own interest.
The story starts soon after the end of season 1. Captain of National Investigation Service Han Si Hyun tries to start a research program of communicating with Troubles, but gets rejected again and again. While meeting with a friend, who is helping him in his search for Kim Yoon-Sung (Mr. Beggar), he gets the absurd idea of starting research on his own.
See Also
[
]
External Links
[
]