Westwood Vibrato
웨스트우드 비브라토

Weseuteuudeu Bibeurato
Alternate Names
West Wood Vibrato, ウエストウッド・ビブラート, 西木樂器工坊
Genre
Drama, Slice of Life
Status
Completed
Author
Youn Inwan
Illustrator
Kim Sunhee
Publishing
Release Day
Tuesday
Publisher
Naver
Magazine
Monthly Sunday Gene-X, Spottoon
English Publisher
LINE Webtoon
Seasons
3
Volumes
4
Chapters
47
Original Run
Feburary 22, 2011 - December 3, 2012
Wiki
Westwood Vibrato is a Naver webtoon written by Youn Inwan and art by Kim Sunhee.
Summary
[
]
There's a story behind every song and every instrument that plays them. Heart-warming dramas unfold at this musical instrument repair shop in South Africa.
Cornelia is a world renowned South African wind instrument repairer and people from all over the world come to seek her help in repairing their instruments. Each of them come with their own emotional backstory and Cornelia works with them to heal old wounds and lay the past to rest through music.
Notes
[
]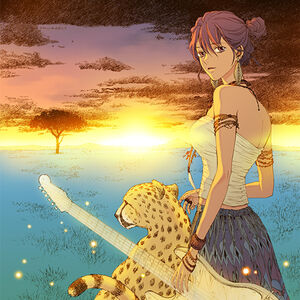 This story was released in Japan, in black and white (and some full color pages) in Monthly Sunday Gene-X. After some time it started to also be released in South Korea in Naver Webtoon, as a webcomic in full color. The chapters are pretty much the same, there's a few differences like: the extras in the Japanese version are in the end of each chapter, in the Korean version it's in a special chapter; also almost all the images are flipped horizontally.
It belongs to a universe called the Super String.
Main dimension
Neolithic Girl (B.C 8000) - Burning Hell - PARAKO - House Keeper - Terror Man (Season 2, past) - Electronics Horror - Westwood Vibrato - Terror Man (Season 1) & Hanlim Gym - REAWAKENED MAN (Season 0) - Terror Man (Season 2) - Neolithic Girl - My Nights Shine Brighter than Your Days - Island - The Queens - REAWAKENED MAN (Season 1) & Prince of Prince - Terror: the Grand Revival - Kangtawoo - Distant Sky
Private
Blade of the Phantom Master
Unknown Timeline (maybe 2020s)
Jungle Juice
This is the timeline.
External Links
[
]
See Also
[
]