Yumi's Cells
유미의 세포들

Yumiui Sepodeul
Alternate Names
ユミの細胞たち, 柔美的细胞君, 柔美的細胞小將, ยูมิกับเซลล์สมองสุดอลเวง, Клетки Ю Ми
Genre
Romance, Comedy, Fantasy
Status
Completed
Author
Donggun Lee
Illustrator
Donggun Lee
Content Rating
Webtoon intended for readers 12 and over
Publishing
Release Day
Saturday
Publisher
Naver
English Publisher
LINE Webtoon
Seasons
4
Chapters
512
Original Run
April 1, 2015 - November 13, 2020
Wiki
Wiki
Wiki Founded
September 22, 2018
Yumi's Cells is a webtoon by Donggun Lee.
Summary
[
]
A story of Yumi and her brain cells.
Inside Yumi, a 32 year old office worker, lives thousands of tiny blue-hooded cells that control her every mood, thought, and action.
Yumi likes her younger colleague, Wook. A lot of things prevent her from pursuing him like being insecure about her age and her love rival, Ruby. Though, Yumi's cells are willing to do anything for Yumi's happiness.
Wook seems to be interested in her too; wanting to talk to her and go out with her. Yumi becomes overjoyed at the thought that he would confess his love. But it's all a setup for him to ask her if she wanted to go on a blind date with his friend. Yumi also finds out that he is not into girls, and has someone he is already interested in -- so she never had a chance.
Yumi becomes depressed over this, and her blind date with Wook's friend, Woong, seems to be a total bust.
As Yumi becomes more and more stressed, she faints, and Woong carries her and runs to a nearby hospital. He buys Yumi a frog hoodie while she is in bed so she can later change out of her hospital clothes. She warms up to him from the unexpectedly cute gesture, and thus begins their relationship.
Yumi and Woong build a strong relationship and become very attached to each other. However, one source of constant turmoil in their relationship is Woong's longtime friend and co-worker, Sia. She creates insecurity and misunderstanding in her attempts to gain more control over Woong, a result of her own fickle and manipulative nature, issues with relationships and inability to let go of Woong. Wook, being Woong's sensible and quick-witted best friend, is often the one to bring Woong back to his senses when he notices something is off. Yumi also does not fall far behind in standing up to Sia.
Over time, it is established that Yumi's priorities have shifted to place her partner at the top, but Woong has never wavered in his top priority being himself, which is the deciding factor in the eventual breakup. Their relationship hits a rough patch when Woong begins having a hard time at work but refuses to confide in or rely on Yumi for anything. Sometime during this period, Yumi is reminded of her desire to get married and brings it up with Woong, but he does not share the same wish. His game studio had been unsteady and recently went under; he had been living in the office on a couch, and isn't sure if he can keep supporting himself financially without her help. His pride is the straw that breaks their relationship's back, and so when Yumi throws out a proposal to break up based on her uncertainty about their future, he agrees, thinking that would be best for the both of them. Yumi does not learn of his reasonings until later on.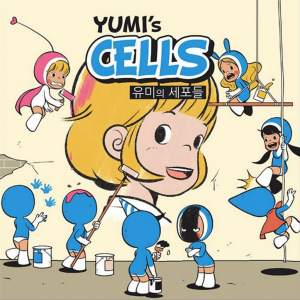 An introverted girl who likes to eat. She likes Wook, but he turned her down. She got set up to go on a blind date with Wook's friend, Woong. Initially, she didn't like him, but after he rushes her to the hospital, she starts to take interest in him. They later break up after the topic of marriage comes up.
Her cells wear a bright blue suit with a hood whereas her prime cell aka the love cell, wears a pink hood and cape along with a white suit.
He is younger than Yumi and works in the advertising department. He also confessed to liking a guy. He sets Yumi and Woong up together and does what he can to prevent Sia from breaking them up.
Yumi's colleague and former love rival for Wook, but her efforts are rendered useless as he is revealed he is gay. She is talented at flirting and can be perceived as manipulative, especially in the beginning of the story. Even though they were love rivals, her and Yumi are shown to be good friends later in the story. She is unable to get over her unrequited love for Wook until Ctrl-Z comes into her life.
Wook's best friend and gaming nerd. Before dating Yumi, he's generally nerdy and geeky, expressing a love of video games and working in the game industry. His thought process is expressed through yes/no flow charts. He begins to like her, even going as far as carrying her to a nearby hospital after she fainted and buying her new clothes. When Yumi woke up, she felt a deep appreciation for the gesture, They later break up after the topic of marriage comes up. His pride and inability to reach out to Yumi for support were underlying factors for their break up. Yumi and Woong date for 1year 4 months 1day. Woong's attempts at getting Yumi back after discovering her through buying a rice cooker and other instances all end in failure,
Woong's co-worker whom he used to like. She seems to be possessive of Woong and tries to get in the way of Yumi and Woong's relationship.
Babi and Yumi meet at work and begin to date soon after. Since his prime cell is the detective cell, he is able to characterize her emotions and infer her interests and dislikes. He even buys a matching ring set with the intention of proposing, but they break up before he gets the chance. Their seperation is due to Babi falling for part-timer Da-eun They dated for one year, eleven months, and nine days. They get back together periodically before Yumi realizes they're better apart, and she wasn't in love.
In the future, him and Da-eun are married with a kid.
Adaptations
[
]
Games
[
]
Web Novel
[
]
Drama
[
]
There was a live-action drama was released on September 17, 2021 under the same name in South Korea.
Animation
[
]
There is an animation series will released on 2022 under the same name in South Korea.
External Links
[
]
See Also
[
]
KAKAO

Foxtoon

KakaoPage

Lezhin

Naver

---